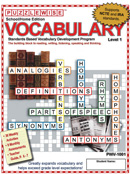 PuzzleWise Fun Vocabulary Program Endorsements
​
Veronique Paquette, Washington Teacher of the Year.
Jane Robertson, Arizona Teacher of the Year.
Dr. Terry Pickeral, Executive Director, National Center for Learning and Citizenship, Education Commission of the States.
Tony Abernathy, Consultant: The Princeton Review.
Dr. Mary Edgley, Missouri State Department of Education, State Testing Program.
PuzzleWise Fun Vocabulary Program Testimonials
​
"Truly an exceptional way to help students learn the skills necessary for success in school and become life-long learners. Fun, purposeful, and innovative." Dr. Betsy Rogers, National Teacher of the Year.
"I strongly recommend PuzzleWise as a classroom resource to any elementary school teacher." Steven Wyborney, Oregon Teacher of the Year.
"I feel this program could make a profound difference in the education of our children." Lindy Hopkins, Mississippi Teacher of the Year.