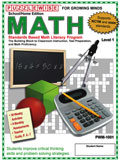 PuzzleWise Fun Math Program Endorsements
PuzzleWise Fun Math Program Testimonials
"Truly an exceptional way to help students learn the skills necessary for success in school and become life-long learners. Fun, purposeful, and innovative."

Dr. Betsy Rogers, National Teacher of the Year.
"I strongly recommend PuzzleWise as a classroom resource to any elementary school teacher."

Steven Wyborney, Oregon Teacher of the Year.
"The feedback from parents has been wonderful! Working on math puzzles with their children has inspired conversations about where and how to find information. It is so gratifying to hear parents say they enjoy the challenge of doing math with their child."

Helen Hemendinger, Math Teacher, Hoosick Falls Central School, NY.
"I feel this program could make a profound difference in the education of our children."

Lindy Hopkins, Mississippi Teacher of the Year.